Tips For Wedding Sparklers
How To Creatively Use Sparklers in Your Wedding 
When it comes to describing a wedding with sparklers, there is only one word that comes to mind: enchanting. The sparklers give of sparkles which can allow everyone to experience the positive vibes and energy that they cannot shake off during the entire day. Truly, Wedding Sparklers have the ability to create that magical bond between guests and the couple. If you wish to make your wedding day as memorable as ever, there are many ways on how you can incorporate the use of wedding sparklers in your wedding day.
Bridal Entrance
There is no better way to welcome the beautiful bride to the altar than with lighted sparklers. While walking down the aisle, sparklers will surely transform this moment with an ambiance that only wedding sparklers can offer. To get things started, give a lit sparkler to each of the bridal party guests so they will be holding a sparkler while they walk down the aisle before the bride does.
Table Centerpieces
Of course, it is impossible to use lit sparklers as table centerpieces. However, using sparklers as centerpieces is a great way to take full advantage of your beautiful wedding sparklers before they are used by your eager guests. You can use a number of centerpieces to place your sparklers in including
tin buckets and vases. On top of that, you can decorate your centerpieces and sparklers to match your wedding theme! Your guests will surely perceive the wonderful activity that will take part later on.
Wedding Cake Entrance
Many couples incorporate the use of sparklers in their wedding cake. If you're not too comfortable with this idea, then it is recommended that you use the sparklers during the cake entrance instead. The cake tray must be surrounded with a foam. After that, the sparklers must be inserted into the cake itself. Upon its arrival, many guests will surely be enthralled to see how magical your cake looks!
Couple's First Dance
The first dance is the most exciting part of the big day. It is the first time that the couple will dance together as the newlyweds, and it is certainly a moment to celebrate! While the bride and groom are preparing for their first dance, it is recommended that you gather the guests and allow them to form a semi-circle around the stage or the dance floor. While the couple is dancing, a couple of guests can rotate around the couple with the lit sparklers in hand. Do this with an interval of 30 seconds. The sparklers will surely create an amazing show to watch.
Wedding Sparklers can be used in many different ways. It is a wedding item that can be admired either as a sparkling performer or as a decorated centerpiece. We encourage all our customers to try any ideas they have that will coincide with the theme and vision of their wedding day.
Let's focus on the latter part of the ceremony as well as the couple's photo-shoots.
Photo Shoot Suggestion #1
This is a great photo shoot idea that many couples will surely love. Use the 36-inch Wedding Sparklers in a simple outdoor set up. Create a heart shaped fence using the wedding sparklers by planting it on the soft grass. The couple would pose in the middle of the heart while someone lights the sparklers; the photographer should be ready to capture the wonderful moment.

Photo Shoot Suggestion #2  
This is just like the suggestion mentioned above but with a slightly different twist. Instead of creating a heart shaped fence, have the couples lie down next to each other with the sparklers as a frame. While the newlyweds are lying side by side, the sparkles of the wedding sparkler will bring radiance to the look of love you have for one another.
Grand Wedding Exit
If you have lots of guests in your wedding party, then a grand exit is just what you need so that every guest can participate. If you do not like the idea of using sparklers as to announce the entrance of the bride, you can use the sparklers to bring your big day to an amazing close.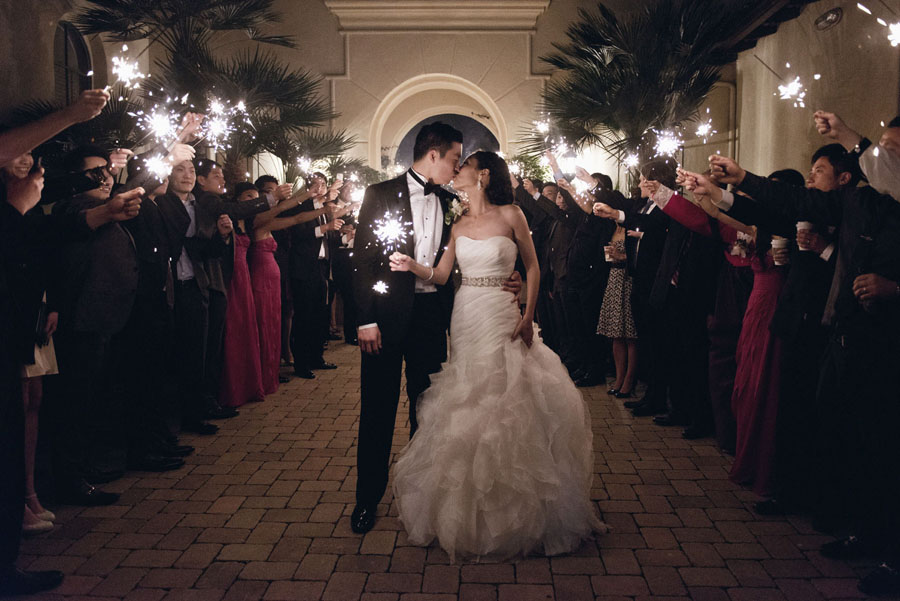 Farewell Circle
Now that the ceremony is coming to an end, it is recommended that you end your wedding day with a bang! There is no better way to do that than with the use of wedding sparklers. If you have a short guest list, it is recommended that you ask your friends and families to create a circle and each and every one will hold a sparkler. The couple will temporarily divide across the circle so they can bid farewell to all of their guests.
Thank You Note
If you wish to send your guests some words of appreciation, it is highly recommended that you do that with the use of sparklers. Have your photographers capture the "Words of Light" made by you and the groom. With the use of wedding sparklers, you can write Thank You along with the date of your wedding and send it to your guests. They will surely love it!
Do you have any more ideas on how you can creatively use sparklers in your wedding ceremony? Please feel free to share some suggestions and do not hesitate to send us some feedback along with pictures of your memorable occasion.